Welcome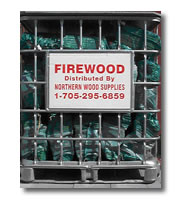 Northern Wood Supplies has been distributing "Quality Firewood" for over twenty years. Whether you require it at retail or wholesale, Northern Wood can look after you.
We purchase cull logs from the lumber industry. No trees are cut for firewood. We only purchase the logs that have already been cut, but are not suitable for cut lumber. The logs are brought to the mill at our site in Peterborough, where we cut it into various sizes. The wood, (ALL HARDWOOD consisting of mostly maple and beech), is available in:
12" or 16"
Regular split or fine split
Green, log aged, seasoned or super seasoned
Picked up or delivered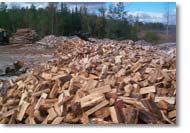 We also have firewood available in convenient bags. For a quote on your next purchase of firewood, email us, or give us a call. You won't be disappointed.
When you need to pick up a quantity smaller than one cord, call or stop by PFW Country Store on Highway # 7, just east of Peterborough. From trunkloads to face cords and kindling, they have it in the stock ready to go.

For more information on how to heat your home please read our helpful article on heating your home with wood.